While K-pop as an industry has steadily grown and brought millions of new fans into its folds, many people remain oblivious to its tremendous influence in the music, fashion, and entertainment worlds as a whole. From more well-known bands like BTS and Blackpink to solo artists like IU, K-pop is a cultural phenomenon that spans a multitude of genres with incredible versatility and range.
The moniker "K-pop" itself is more of an umbrella term that encompasses all of the subgenres within it. Most genres within K-pop have lyrics that are usually all in Korean and melodies that directly or indirectly draw on traditional Korean music.While BTS' 2017 AMA performance is what catapulted K-pop onto the international stage, the genre existed for decades before the boy band rose to fame.
K-pop originated in the 1950s in South Korea with The Kim Sisters, a Korean-born American trio. Both talented and stylish, these sisters set the bar for global Korean recognition and even appeared on the Ed Sullivan Show 22 times! In 1970, Kim Min-ki wrote the song "Morning Dew." The rock singer and composer's brief tune later became the anthem of the pro-democracy youth movement in South Korea. Even though Min-ki's albums eventually were banned because of the political messages, this censorship did not prevent the usage of K-pop music as a vessel for political activism. The recent spike in Anti-Asian hate crimes in the U.S. has received significant backlash from KPop groups, including BTS. In addition to established K-pop artists using their platform to engage in social issues, K-pop fandoms consistently stick up for the musicians they admire and deflect racist and bigoted commentary. Most recently, K-pop fans were credited with trolling the Trump campaign by fake-registering to attend a rally in Tulsa, Oklahoma.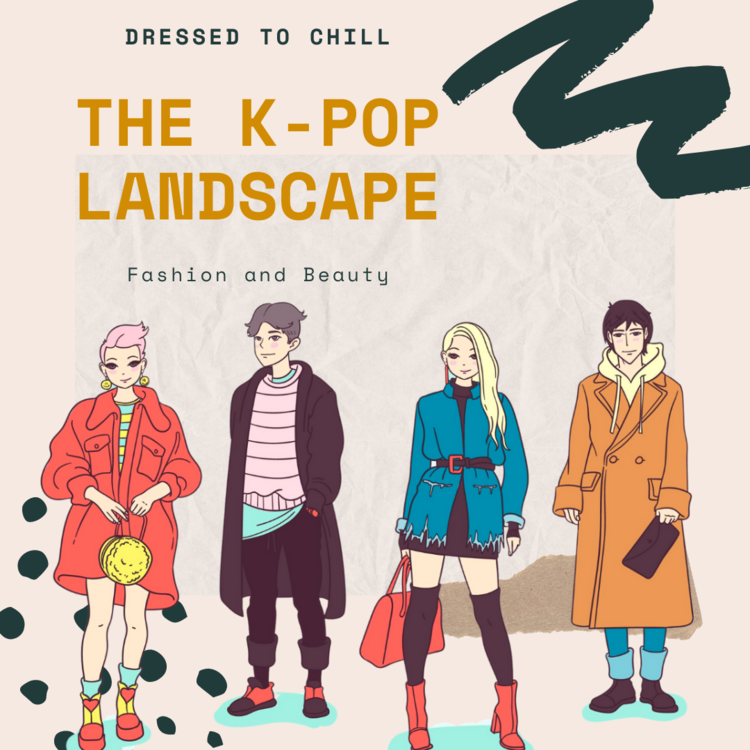 The K-pop landscape—with its boy bands, fandoms, and "idols" (celebrities) that most people are familiar with today—only started taking shape in the 1990s. Seo Taiji and Boys was the first boy band that merged popular Korean music with popular American music. Their new sound, coupled with hip-hop choreography that was also popular in the States at the time, fused together to create the beginnings of modern K-pop.In the decade of the 2000s that followed, more and more groups debuted, each one adding to the fabric of K-pop history and changing it as time went on.
Today's chart-dominating groups are recognized as the third generation, and their success has been nothing short of spectacular and ground-breaking. Most boy or girl-bands that have been successful—especially in the U.S.—have been mainly white, with only a few exceptions. The popularity of today's K-pop bands among American teenagers reflects both a greater willingness to experience different cultures and the talent that these artists possess. It also doesn't hurt that every single K-pop star today is an icon of both beauty and style.
As mentioned earlier, the K-pop industry is one of both music and fashion. Virtually every single artist could be a model, and countless Pinterest boards and YouTube videos are entirely dedicated to K-pop style.And just like the musical facet of K-pop, K-pop fashion is multidimensional and not limited to a single style.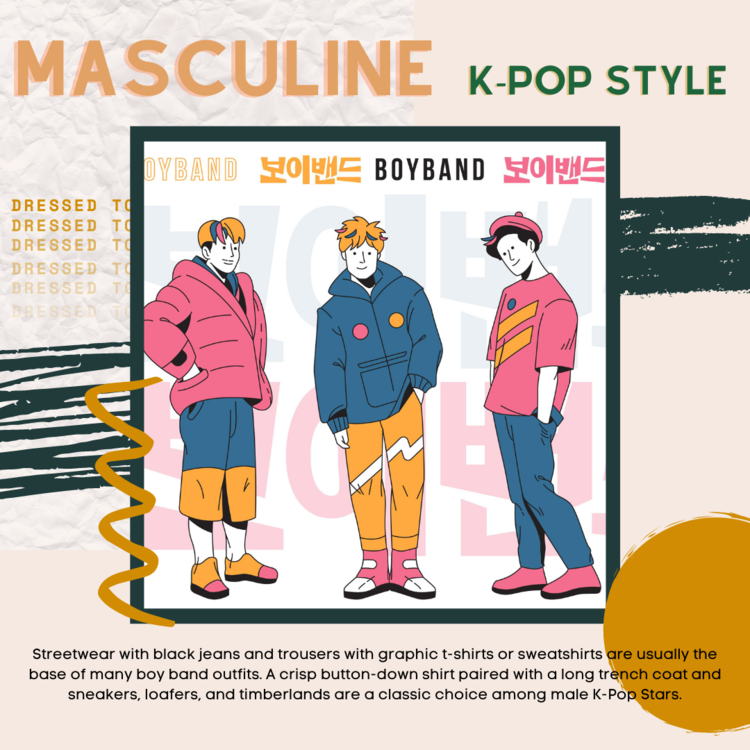 The masculine K-pop style that is predominant right now is that of streetwear. Black jeans and trousers, whether they be skinny or baggy, are usually the base of many boy band heartthrob outfits. For more of a casual look, artists opt for oversized graphic t-shirts or sweatshirts. To dress a look up, the clean lines of a crisp button-down shirt paired with a long trench coat are a classic go-to. To finish a look, sneakers, loafers, and Timberlands are usually the footwear of choice among male K-pop stars. While these are some of the staple pieces among K-pop boy bands, you are also bound to see your favorite stars sporting denim jackets, hipster hats, and muscle tanks.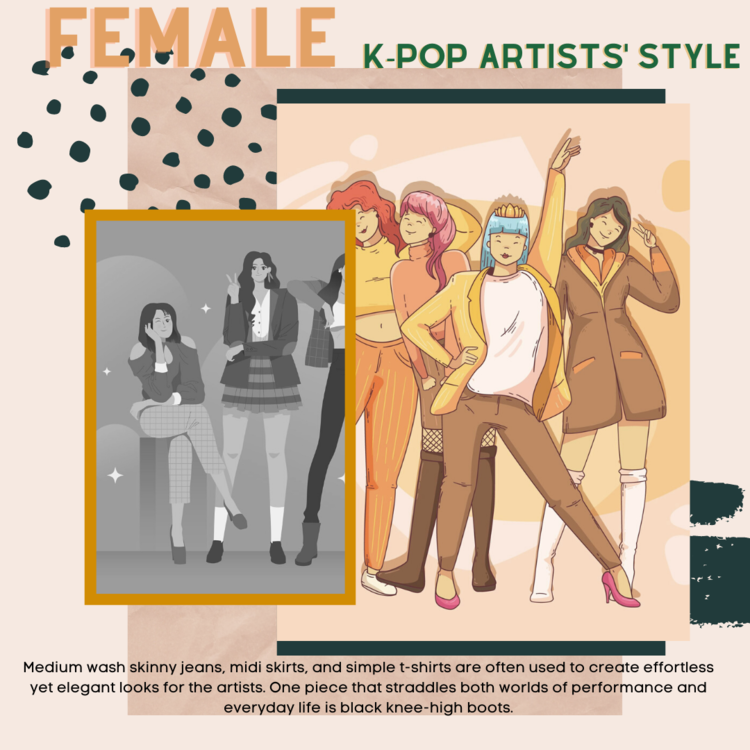 Female K-pop artists' style varies significantly from what they wear onstage as opposed to what they choose to wear in their daily lives. Performance outfits tend to be much tighter and blingier. Leopard print, chains, sequins, and sparkles all make consistent appearances in live performances. Statement pieces like floor-length cutout red capes and distressed tops are also not uncommon. When your favorite K-pop stars walk down the street, however, they are styled much more casually. Medium wash skinny jeans, midi skirts, and simple t-shirts are often used to create effortless yet elegant looks for these artists. One piece that straddles both worlds of performance and everyday life is black knee-high boots. Whether they be the lace-up variety or can be done up with a simple zipper, it seems as though every female K-pop star has a pair in their wardrobe.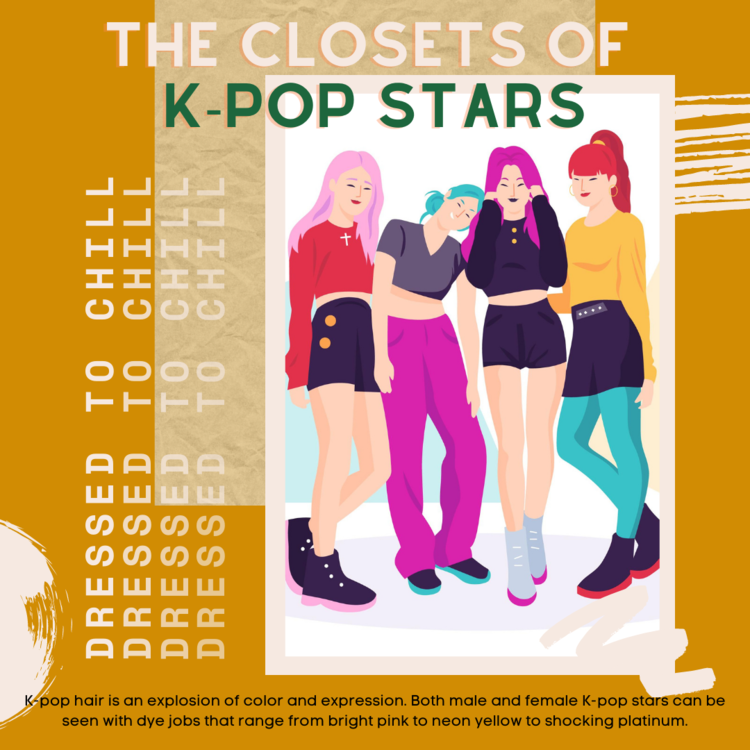 The closets of K-pop stars are all about style that is hip yet elegantwith muted hues and clean silhouettes. K-pop hair, on the other hand, is an explosion of color and expression. Both male and female K-pop stars can be seen with dye jobs that range from bright pink to neon yellow to shocking platinum. While some stars maintain their signature hair looks, many switch their up quite frequently.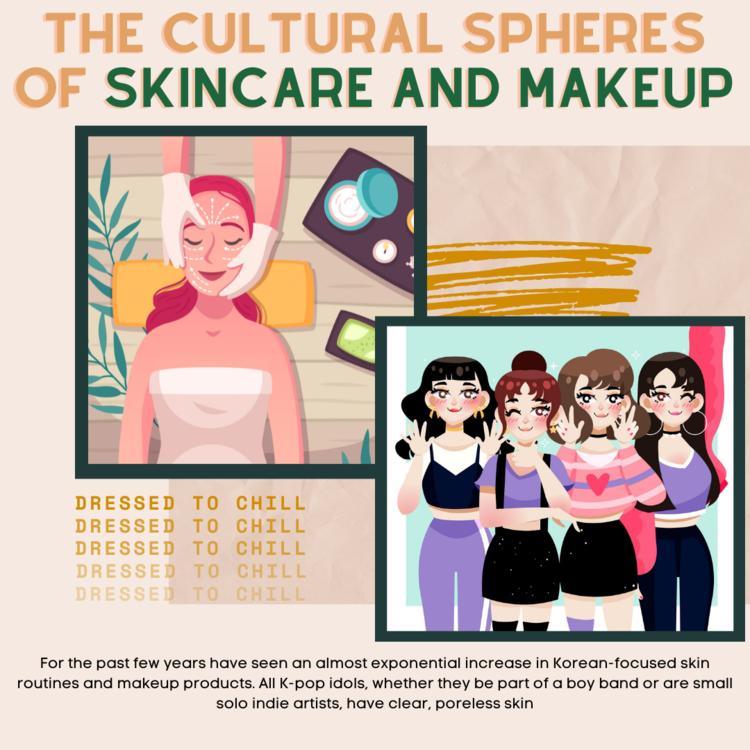 The cultural spheres of skincare and makeup are ones that K-pop must be mentioned in. Even before K-pop blew up on the global stage, skincare and makeup videos were being posted by the minute on social media platforms. However, the past few years have seen an almost exponential increase in Korean-focused skin routines and makeup products. All K-pop idols, whether they be part of a boy band or are small solo indie artists, have clear, poreless skin. Some idols have mentioned unique skin care routines like using contact lens solution as face wash or only using one finger to apply products. Others swear by hyper-specific brand serums and formulas. Any eccentric routine a K-pop star has mentioned has probably been attempted by someone across the worldwhich is indicative of how strong K-pop's international influence is.
It is undeniable that K-pop has solidified its lasting international influence in the realms of music, fashion, beauty, and culture, and that this influence will only continue to grow.
Written by Ela Kalra